Jeff Surtel
View MissingKidsALERT profile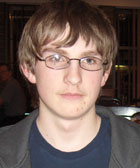 "Jeff's family has not been the same since he went missing in 2007. His absence has been felt each and every day. We remain committed to bringing Jeff home."
Date of birth:

Feb. 24, 1990

Missing since:

April 29, 2007

Missing from:

Mission, British Columbia, Canada

Eyes:

Blue

Hair:

Brown

Height:

186 cm

Weight:

68.4 kg

Additional information:

Jeff Surtel was last seen leaving his home in Mission, BC. At the time of his disappearance, Jeff was wearing thin rimmed glasses and may have been riding a blue CCM mountain bike with yellow front forks. Jeff also has a number of moles on the left side of his chin.