Jeff Surtel
View MissingKidsALERT profile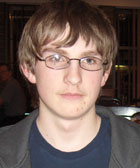 "The questions never end. Our hearts are forever broken, If anyone knows anything, please, it is time to come forward"
Date of birth:

Feb. 24, 1990

Missing since:

April 29, 2007

Missing from:

Mission, British Columbia, Canada

Eyes:

Blue

Hair:

Brown

Height:

6'1" / 186 cm

Weight:

151 lbs / 68.4 kg

Additional information:

Jeff Surtel was last seen leaving his home in Mission, BC. At the time of his disappearance, Jeff was wearing thin rimmed glasses and may have been riding a blue CCM mountain bike with yellow front forks. Jeff also has a number of moles on the left side of his chin.