Claudette Osborne
View MissingKidsALERT profile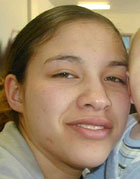 "When we think about Claudette, we are reminded of her beautiful family that is living without her. We hope that in the very near future, we can bring her home."
Date of birth:

May 15, 1987

Missing since:

July 25, 2008

Missing from:

Winnipeg, Manitoba, Canada

Eyes:

Hazel

Hair:

Dark brown

Height:

5'4" / 162 cm

Weight:

130 lbs / 59 kg

Additional information:

Claudette Osborne was last known to be in the area of Selkirk Avenue and King Street in Winnipeg, MB. At the time of her disappearance Claudette was wearing a silver necklace with a dolphin pendant. Claudette also has a scar on right cheek at the jaw line.