MissingKids.ca appeals to the public for information on a missing youth
Ten years pass since Sunshine Wood's disappearance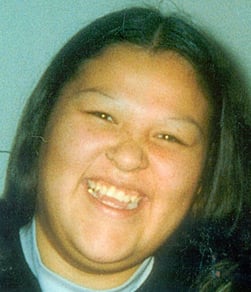 Winnipeg, MB: Today, MissingKids.ca, a program of the Canadian Centre for Child Protection, is appealing to the public to come forward with any information regarding the disappearance of Sunshine Wood. It has now been 10 years since 16-year-old Sunshine Wood went missing from downtown Winnipeg.
"We believe that for every missing child, there is someone who has information," says Christy Dzikowicz, Director of MissingKids.ca. "We are asking anyone with knowledge about Sunshine's disappearance to have the courage to reach out to MissingKids.ca or police to help provide her family with answers."
Sunshine moved to Winnipeg from God's River First Nation in 2003 to attend Gordon Bell High School. Just over six months after arriving in the city, on February 20, 2004, Sunshine went missing. She was last seen at approximately 11:45 p.m. in front of the St. Regis Hotel, standing with a few individuals on Smith Street near Portage Avenue.
"In the 10 years since Sunshine has disappeared, the Wood family has suffered significantly," says Dzikowicz, "Over the years, Sunshine's family and those searching for her have remained hopeful that new information will bring her home."
Since May 2011, Sunshine's case has been a part of Project Devote. Project Devote is an integrated unit composed of RCMP and Winnipeg Police Service members, and is committed to the investigation into the disappearance of Sunshine.
Sunshine has a tattoo of "SW" on her left hand, "Sunny" on her left forearm and "Destiny" on her right forearm. She has brown eyes, stands 5′7″ tall and at the time of her disappearance she was 220lbs with shoulder length brown hair.
Anyone with information regarding Sunshine Wood's disappearance should contact MissingKids.ca at 1-866-KID-TIPS (543-8477) or the Project Devote Tip Line at 1-888-673-3316.

For more information please contact:
Communications, Canadian Centre for Child Protection
Email: communications@protectchildren.ca
Phone: 204-560-0723